Platja de la Mar Menuda or Playa de Mar Menuda
The Platja de la Mar Menuda or Playa de Mar Menuda (in Castilian) is the second big beach of Tossa. As already Playa Grande


(Platja Gran) it also got the blue flag for the last years which reflects a good water quality. Given that there are currently only few motorboats near the beach, the water in this area is usually of a better quality than that of Playa Grande.


The Playa de Mar Menuda, the small sea, has numerous activities especially because of the very low waves on the beach so that children who do not yet know how to swim can bathe here, at least under parental surveillance. The Platja de la Mar Menuda is considered as point of departure for divers and is also used by four diving schools of Tossa for the initiation of diving. In summer some small excursion boats stop at the beach and during the holidays a part of the beach is used for different activities of children and young people. And, finally, this beach is the base for several boats which serve the fishermen to earn their living. The beach of Mar Menuda, 140 metres long, is partially pebbly and, because of its size, often overpopulated in summer.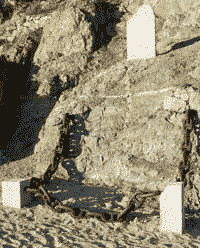 The beach has itself has a "second" beach which is called Banyera de Ses Dones (bañera of mujeres in Castilian), the women's bathtub. No wave reaches this small beach which was created, according to a legend, in 1236 so that San Ramón de Penyafort, a saint of this time could touch land. A natural cross in a cliff testifies of this event which Javier Espínola immortalized. A mural painting, which was inaugurated in 2001, in the new church San Vinceç of Tossa also calls reminds this fact.

The Catalan authors Josep Pla (Guía de la Costa Brava) and Josep M. Ainaud de Lasarte also used the legend of the Platja de la Mar Menuda in their works. The beach of Mar Menuda became, in this way, known everywhere in Spain.