Mare de Déu de Gràcia, chapel and hermitage
The origin of the current ruin of the chapel-hermitage Mare de Déu de Gràcia is unfortunately hidden to us even if we know that the surroundings of the chapel were already settled in the Neolithic Age and later by the Iberians. But the historical traces are rare and the closest Menhir, the "Menhir d'en Llach" is approximately three kilometres (9843 feet) from the chapel and can be reached by the long trail GR 92.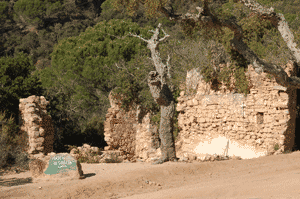 There's no prove not either that the later hermitage Mare de Déu de Gràcia was the first parish church of Tossa, Sant Lionç, which was mentioned in a document of 966 and which probably was situated on a hill. However, no trace of this church had been found until today, even if there is evidence to think that the place of the current ruin of the chapel is the same where the first church of Tossa has been built. The surroundings of the chapel were always important to Tossa, the old routes touched the chapel and the creek Cala de Salionç derivates from the names Saint (Sant in Catalan) and Lionç.

What we know for sure however is the fact that the part still visible of the chapel was built in Romanesque style in the 10th or 11th century. The chapel had a rectangular ship and a semicircular recess covered with a hemispherical vault, the apsis.

In the 17th century the chapel became the hermitage Mare de Déu de Gràcia and was extended by a small building which is considered as a living place for the hermit. Already at this time the chapel had become a local pilgrimage place for the inhabitants of Tossa which expected to find help or a solution to their problems by Maria, the mother of Jesus.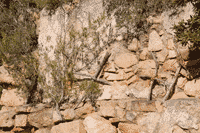 Finally, in the French Spanish war of liberation, the Napoleon war, (1808 - 1814) the building was entirely destroyed. The ruins existing since this time need urgently solid craftsmanship to avoid further natural devastation.

In the popular belief of the inhabitants of Tossa the former Hermitage Mare de Déu de Gràcia still plays an important roll. The Aplec (a Romería, what corresponds to a pilgrimage), a party under free sky on every beginning of May, attracts every year hundreds of visitors and also the other days of each year numerous visitors to the hermitage beg Maria for help. Numerous, often very simply made crosses at the walls, attest the evidence.

The former chapel and hermitage which lies about 240 meters (787 feet) above sea level requires approximately one hour walk from Tossa. Several trails and paths pass alongside the former chapel, so the long trail GR 92, the Camí del Aigua, but also the MTB trail 1 and 2, the footpath to Sant Grau or the hiking trail to the summit of the Cadiretes.